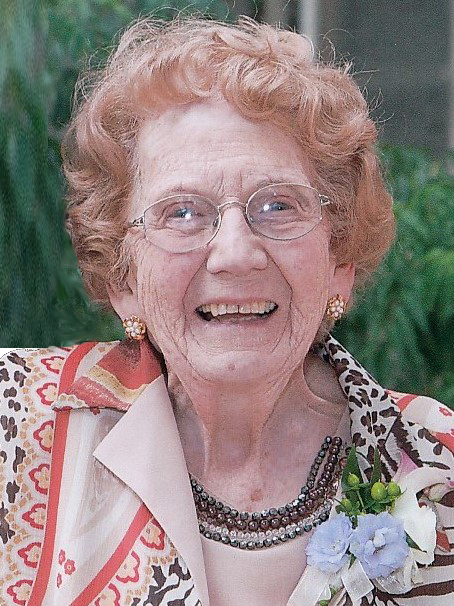 In her 100th year, Mary Joyce passed away peacefully in her own home where she lived an active life to the end. She was born in Hamilton to Rev. W. Harry and Sophie Sedgewick; grew up in Toronto with her siblings Margaret, Eleanor and Mackenzie; and after graduating from the University of Toronto where she was the only woman in the 1940 Maths and Physics program, she moved to Ottawa with her husband Walter Stevenson Joyce in 1945, as he began his career in teaching.
Mary and Walter became the parents of four children; Sheila, Margaret, Tom and Doug. Mary's life in Ottawa not only involved raising her family, but also being active in volunteer work, much of it in Glebe-St. James United Church and the Council of Women.
After the premature death of her husband, Walter, almost 40 years ago, Mary moved back to Toronto where she continued her active life. As a member and regular church goer of The Donway Covenant United Church, Mary was involved in its Tuesday book study group and the Wednesday ESL workshops, and attended many of its community dinner and movie events.
Throughout her life, Mary was an avid reader and was always a member of a book discussion group; first the Home Reading Union in Ottawa, then the University Women's Club in Toronto. With the onset of macular degeneration in her later years, Mary continued reading by listening to talking books. Mary was interested in all aspects of life. She attended the "Later Life in Retirement" courses at Glendon College, always followed local and world affairs and spent many hours watching various sports on TV (tennis and golf were favourites).
While she was still physically able to do so, Mary loved to travel and visited many places around the globe. However, her favourite place to be away from home always remained the family cottage at Golden Lake. Each evening while there, she insisted on watching the sunset, preferably in the company of one or more of her children or grandchildren.
Mary was predeceased by her husband Walter, and is survived by her children, Sheila Smolkin (the late Bob Smolkin), Margaret Joyce, Tom Joyce (Joan) and Doug Joyce (Suze), fifteen grandchildren; seventeen greatgrandchildren; and two great-great-grandchildren. She will be remembered by her family and friends as a spunky, strong, independent woman, a woman to be greatly admired and emulated.
A memorial service will take place for family and friends at The Donway Covenant Church, 230 The Donway West, Don Mills on Tuesday, June 19 at 1:00 p.m. If desired, the family asks that donations in her memory be made to a charity of your choice.