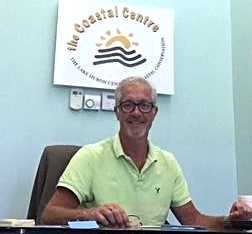 Matt Hoy, Executive Director
It has been an exciting first month in my new role as ED for the Coastal Centre! Time is flying by!

During my short time I have had the opportunity to become acquainted with our talented staff and coastal conservation consultants. To say I am impressed would be an understatement. We have some incredibly skilled and dedicated individuals associated with the LHCCC. Although I was impressed with the reputation of the Coasal Centre prior to coming here, I am even more confident in the abilities of our organization, and our ability to provide expertise to Governmental Agencies, Cottage Associations and individuals looking for guidance and support.

I have had the opportunity to meet with many of our corporate partners and board members. This will be a continued focus for me to expand and build upon our current relationships.  In particular, I had an exceptional day with our board member Nancy Vidler, touring the communities within the Port Franks area. I learned so much about the ever present danger to our environment associated with the invasive plant, Phragmites. Thank you Nancy!

A project I have undertaken that I am particularly proud of is organizing a meeting of the minds for Municipalities stretching from our service area of Sarnia to Tobermory. We are already receiving a positive response from Mayors, Councilors and the media. More on this exiting meeting to come in future newsletters, stay tuned.

Thank you for YOUR contribution to the environment and our lake. I look forward to providing you with more updates in the future.
Matt

Matthew (Matt) Hoy
Executive Director
Lake Huron Centre for Coastal Conservation
 
---

Litter Bugs For The Next Generation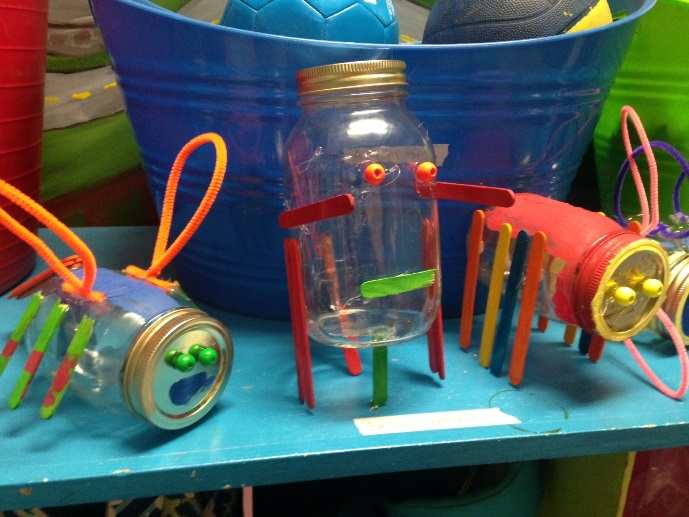 Image: Litter Bug Craft Making, Bruce County Museum and Cultural Centre (photo R. Moore)
In July, Coastal Centre staff visited the Bruce County Museum and Cultural Centre and showed children aged 5-10 how to make their very own "litter bug". The litter bugs are made of mason jars, wooden beads, and popsicle sticks. Children can take their litter bugs to the beach and fill them with litter. Litter bugs' favourite foods are plastic bottle caps, food wrappers and small pieces of plastic. HINT: To keep your new pet happy, you should fill it with litter at least once a week and empty it when you get home!



Plastic Pollution in Lake Huron and Beyond — An Overview
Plastic pollution, which affects both ocean life and freshwater ecosystems including Lake Huron, is becoming a hot topic these days. Plastic ends up in rivers, lakes and oceans through improper waste management, littering, and by way of storm drains and runoff that carries plastic debris into the water.

These plastics are generally everyday items such as Styrofoam cups, plastic bags, and cigarette filters. In fact, 90% of plastic items in our daily lives are used just once and then thrown away. Global plastic consumption reached 300 million tons last year, and continues to rise to meet our demand for single use convenience products. Unfortunately, this convenience is coming at a cost to our coast. Wildlife such as shorebirds, fish, and turtles ingest these pieces of plastic or get entangled in them and are unable to break free. Many types of plastics also absorb pollutants on their surfaces, and when ingested can cause further harm. A recent study which included Lake Huron, found that, on average, there are approximately 43,000 plastic pieces per kilometer squared in our Great Lakes.
 Image: Plastics on Ipperwash Beach, Lake Huron (photo R. Moore)
It may sound gloomy, but many people such as the team at the Coastal Centre remain optimistic that we can turn the tide on plastic pollution. At our Biennial Conference this past May,  Dr. Philippe Van Cappellen discussed the topic in detail, bringing awareness to the issue. Jen Pate, a shoreline resident in Bayfield and owner of Windmill Lake Wakeboard & Eco Park, is helping to lead a Great Lakes wide water sampling and shoreline cleanup event—the biggest simultaneous water sampling in the world to detect microplastics. And everyday people, like me and you, are changing our habits to reduce our plastic footprint. Levels of governments too, are meeting our concerns with positive actions. In July, the Canadian Federal Government classified microbeads as toxic (yay!), an important step towards banning these harmful microplastics altogether. There is hope, and being an active part of the solution will help you see it--we promise!
---
August 20th:  Be Part Of The Solution To Plastic Pollution!
This month, The Coastal Centre is partnering with eXXpedition Great Lakes to take part in the world's largest simultaneous water sampling. On Saturday, August 20th at 11 am, join us in Goderich at Saint Christopher's Beach for a free beach talk. The talk will be followed by a shoreline cleanup and water sampling. Samples from across each of the Great Lakes will be sent to a laboratory for testing, and results will be available to the public.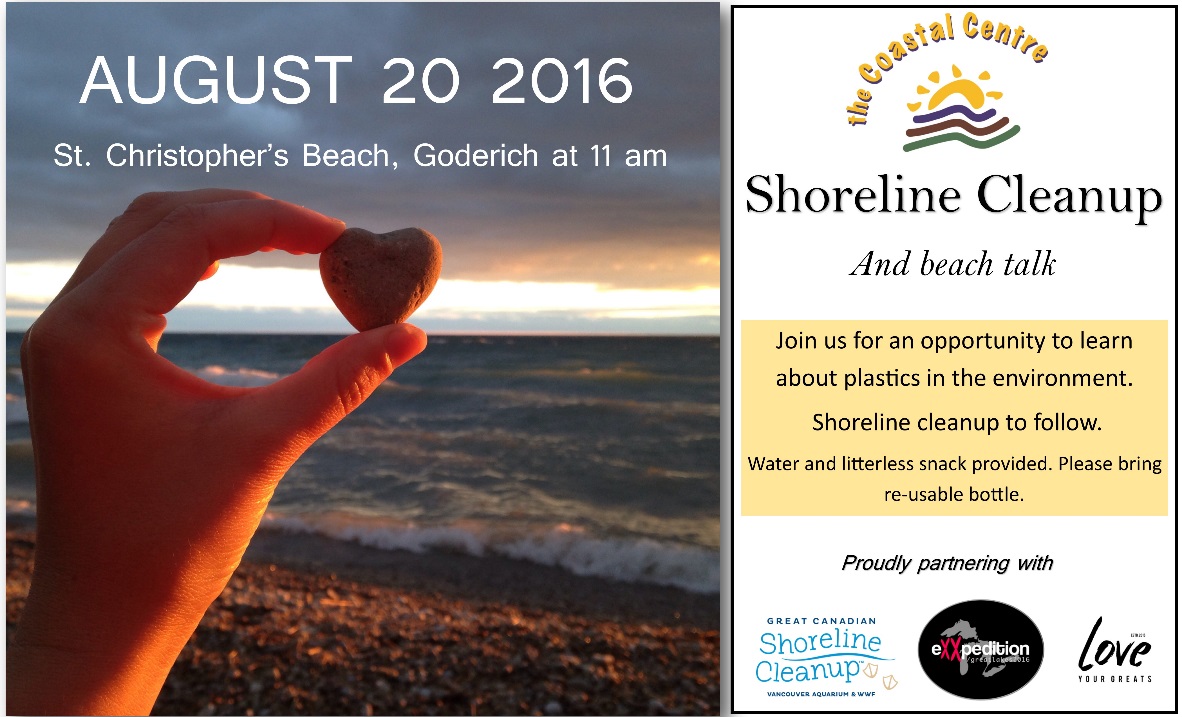 ---

Let's Keep Those Butts Off The Beaches!
This is the third beach season that the Coastal Centre has implemented our "Butt Free Beach" campaign to raise awareness about the impacts of littered cigarette filters, and help reduce the number of butts on the beach.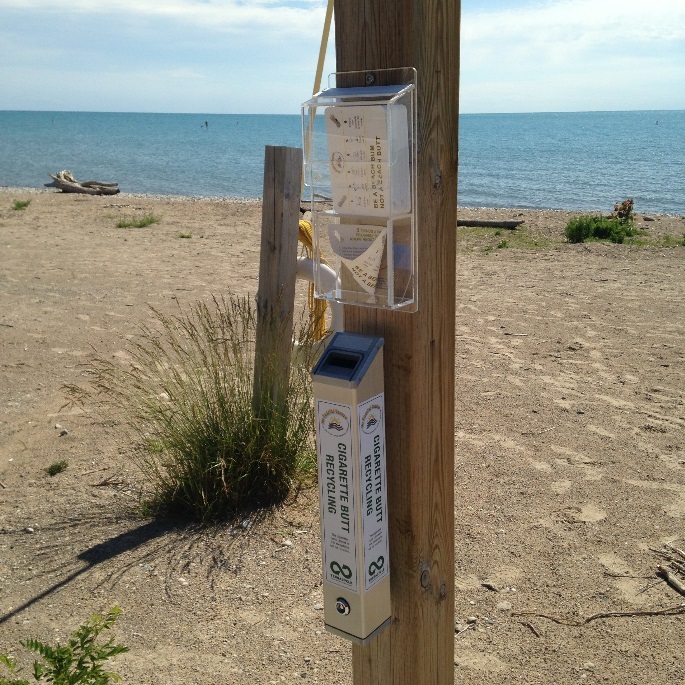 Cigarette filters are the #1 littered item in the world, and unfortunately, Lake Huron's coast is affected from this discarded waste. Cigarette filters are actually made of a type of plastic, called cellulose acetate that never fully decomposes in the environment. Instead of decomposing, the cigarette filters leach toxic chemicals into the water and break into smaller pieces, which can end up in the stomachs of coastal wildlife such as birds, fish, and turtles.  The Coastal Centre's Butt Free Beach campaign provides municipalities with educational signage, cigarette recycling bins, and free recyclable beach ashtrays to curb littering habits. All cigarette butts collected through our campaign's recycling bins are sent to Terracycle to be recycled. We have 15 cigarette recycling bins installed from Sarnia to Sauble Beach.
Image: Free beach ashtrays and cigarette recycling bin (photo R. Moore)
---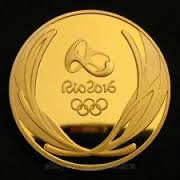 With the Olympic games underway, we await the cascade of medals that Canadians will be bringing home.

Like Canadian Olympians, the Great Lakes are the best in the world. Of the five Great Lakes, we think the people of Lake Huron would agree that our lake deserves a gold medal.  Gold medals take a lot of hard work, and the Coastal Centre staff and volunteers work hard in the background.  By making a donation to the Coastal Centre, you can help us

Go for the Gold!
  You can make a donation electronically at CanadaHelps.org.
Groups:
Bruce Beach Cottagers Association
Environmental Stewardship
Group content visibility: