Getting Familiar with Change
The COP21 climate talks in Paris that took place last month seemed to signal a turning point, with unanimous agreement to move forward on controlling carbon emissions to the atmosphere. The world has finally agreed that mitigating carbon emissions is necessary to avoid a future that is not sustainable.
 
"Climate change is a global problem, felt on local scales, that will be around for decades and centuries to come. Carbon dioxide, the heat-trapping greenhouse gas that has driven recent global warming, lingers in the atmosphere for hundreds of years, and the planet (especially the oceans) takes a while to respond to warming. So even if we stopped emitting all greenhouse gases today, global warming and climate change will continue to affect future generations. In this way, humanity is "committed" to some level of climate change." (NASA)
If we're committed to change in climate and the concomitant extreme weather conditions that seem to characterize this change, then we need to prepare and plan in order to deal with these conditions. This is a process referred to as "adaptation," where we anticipate and respond to changing conditions in a reasoned way.
 
The issue of extreme lake levels is an example of how we can plan ahead. In 2012, the International Upper Great Lakes Study (IUGLS), commissioned by the International Joint Commission, studied the issue of lake levels on Lakes Superior, Michigan and Huron. One of its conclusions was that we should be planning for future climate-influenced changes to the lakes based on levels within the historical range.
 
We've experienced the extreme ends of this range within the last 30 years. Extreme highs were experienced in 1985-86, and extreme lows experienced in January of 2013. Both circumstances were met with some public unease. During high levels, there were concerns raised about flooding and erosion, while under low levels, concerns ranged from poor swimming quality to silted marinas to invasive species.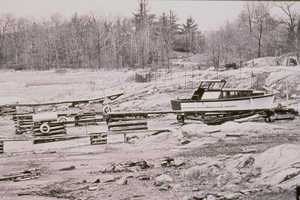 (Image showing extremely low lake levels exposing the lakebed) 

Having experienced and documented both extreme situations, we should be in a position to plan some adaptation strategies. That's what is intended by a current study being undertaken by a University of Toronto research team, looking at a stretch of Lake Huron shoreline spanning Huron County (Amberley to Grand Bend). Working with a local advisory committee, this study is looking at environmental and socio-economic aspects of water level fluctuations, and will recommend ways that communities can prepare for changes in lake levels. (This study is being funded by the Graham Sustainability Institute, University of Michigan).
 
Fluctuating lake levels, a changing wind regime, and increases in precipitation are some of the things for which we need to plan adaptation strategies.  One of the more important strategies will be ensuring the resiliency of our coasts to these changing conditions. That means promoting natural shorelines that can respond best to extremes in lake levels, temperatures, winds and precipitation.
 
Since its beginnings, the Coastal Centre has promoted naturalized shorelines as the best approach to maintaining high quality beaches, wetlands, water quality and habitats. Some examples include:
 
 
Building a "Living Coast" will give Lake Huron the advantage of being able to adapt to change in a cost-effective, environmentally sustainable way. A good quality coast benefits everyone.
 


(article by Geoff Peach, Coastal Resources Manager)
Just a Snow Machine
Our winter, so far, has been strongly influenced by El Nino.   That will likely mean a milder winter, with less ice formation. But depending on the frequency and intensity of Arctic air flowing over the lake, we'll still be in for snow, particularly the lake effect kind.

Lake-generated s
now squalls are those fingers of intense snowfall that cause roads to be closed along the lakeshore, and make for dangerous driving. They
 form when cold air, passing over the relatively warm waters of a large lake, picks up moisture and heat and is then forced to drop the moisture in the form of snow upon reaching the downwind shore. Lake-effect snows are common over the eastern shores of Lake Huron and Georgian Bay because these large bodies of water can hold their summer heat well into the winter, they rarely fully freeze over and they provide the long fetch (distance of water that the wind blows across) that allows air to gain the heat and moisture required to fuel the squalls.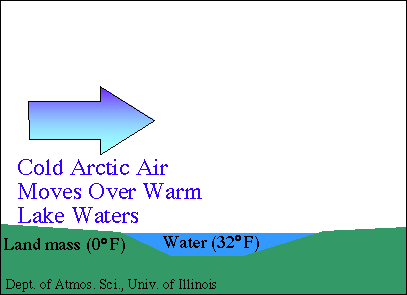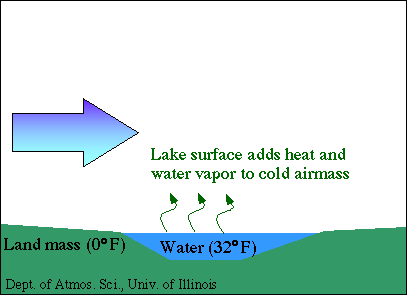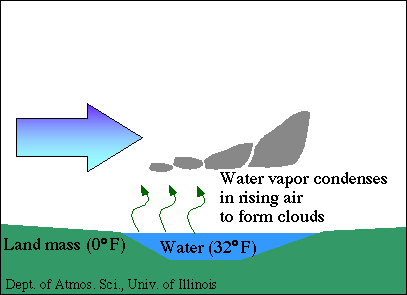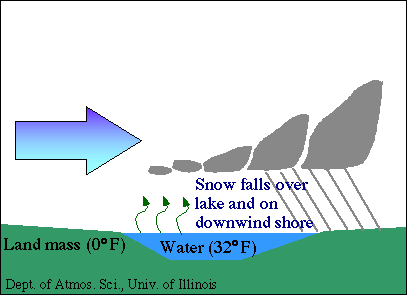 (Image sequence showing development of snow fall from lake effects)
 
There are some key ingredients that you need to produce lake effect snow.  The first is a relatively warm body of water (e.g. Great Lake).  The second ingredient is a source of cold air.  In the Great Lakes region, that source comes from the high latitudes of North America where dry arctic air masses often "spill southward" over those warm bodies of water.  Heat and moisture from the warm lakes rise into the arctic air where it then cools and condenses into snow clouds.  The prevailing wind direction determines where the snow will fall. On Lake Huron, air masses coming from the northwest will have a much larger fetch to travel over, and so have more of an opportunity to pick up moisture. Snow squalls from the northwest usually provide the most intense squall systems and can penetrate deeply over the land.  A snow squall's maximum penetration inland will generally be greatest during late autumn/early winter and shortest during the late winter.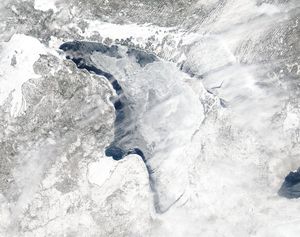 (Satellite image of Lake Huron with lake effect squalls)
Lake Huron snow squalls can have a positive and a negative impact on the local economy. The amount of snow is great for winter sports and snow removal industries, however the cost to the economy can be high due to closed highways and  the cost of snow removal.  Climate change projections for the Great Lakes suggest that snow squalls in the future may intensify, due to a higher temperature regime and more open, ice-free winters.

Identifying the conditions that are favourable for snow to develop over the lake is the key to forecasting lake effect snow. The components include:
unfrozen lake;

air above the lake (850 mb) at least 5C degrees cooler than surface water temperature;

enough moisture (water vapour) to support snow;

enough wind to convey the snow onto land; and

direction of the wind will imply where the snow will make landfall.
More on snow squalls  
"Is the Coast Clear?" Conference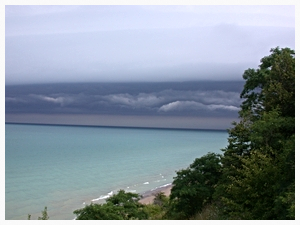 The
9th Biennial Conference
on Lake Huron's Coastal Environment hosted by the Coastal Centre.
Date:  ​Friday, May 27, 2016
 
Location:
 Unifor Family Education Centre, Port Elgin
Cost:
  $60 per person ($40 per student)
Conference Sponsored by:
Feel the Burn!
Happy New Year to all of our readers!  As the cold of winter sets in, we all have those warm thoughts of lying on a toasty beach in mid-summer, or of taking in one of the many festivals and events under a scorching sun. Nice warm memories to take away the chill. You can also get an especially warm feeling by donating to the Coastal Centre. And donations give us a warm feeling, since it means there are people who want to make a difference by supporting a lake-based organization working for a great coast. Feeling hot, hot, hot!
Groups:
Bruce Beach Cottagers Association
Environmental Stewardship
Group content visibility: